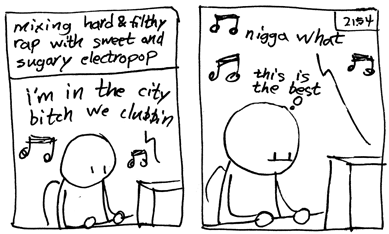 Hourly comic from July 2nd 2010
If you've been keeping up with my hourly comics you'll have noticed that since last summer I've been working on mashups, which is basically putting different songs together to make new songs. I've spent a lot of time leveling up these skills, advancing to the stage where I'm actually having live performances, under the name PLAYLISP.
Never before have I released any of this music online, but today playlisp.com goes live, a website devoted entirely to my mashups!
Over there you can read more about the project and, more importantly, listen to and download three new tracks! These include the mix mentioned in the hourly comic above, between Ice Cube and Owl City, and a cacophonous collision called Bare Bananas, which includes everything from Gwen Stefani and Eminem to MGMT and Super Mario!
Apart from the songs playlisp.com also a short preview of my audiovisual project 2 Eyes 2 Ears, and an interview with me on the (Swedish) radio show Godmorgon Dalarna, where we talked about my music and played one of my tracks.
Usually I try to keep all my projects within the Awesomepedia url, because I like to have one website, with one unified design, for all my projects, so that people don't get lost... But I decided to make playlisp.com because it was getting really difficult to explain to drunk people after gigs that 1) No, my stage name is PLAYLISP, not DJ Burrows any such nonsense and 2) you can find more at awesomepedia.org. It was difficult enough to get one of those concepts across, let alone both.
So, in summary: GO CHECK OUT PLAYLISP.COM RIGHT NOW.